About Us
About Us
New Life Solutions, Center for Regenerative Medicine in Pasadena California, offers a wide array of the twenty-first century cutting-edge services to its clients by utilizing the latest advancements in technology, professional and knowledgeable staff, and a state of the art facility, to deliver spectacular and long-lasting results.
Our team members are located in various parts of the county-Pasadena, Hollywood and Cedars Sinai Hospital in Beverly Hills. Services offered range from the latest in Stem Cell Therapy and Hormone Replacement Therapy to Lasers, Cosmetic procedures, and Drip IV Therapy. Cellular Therapy is the newest and most exciting of all our services. This service is service of stem cells that come from Umbilical cord tissue, umbilical cord blood, amniotic fluid, and the patient's own bone marrow.
Led by world-renowned anti-aging specialist Dr. Alex Martin, New Life Solutions has become a leading center for Stem Cell Therapy and regenerative medicine. Our treatments are based on proven scientific methods aimed at slowing or eliminating signs of the aging process and improving one's appearance, vitality, and overall sense of wellbeing.
At New Life Solutions, we always find the latest and most futuristic treatments because we search the World over for the very best and the most successful treatments.
Our Staff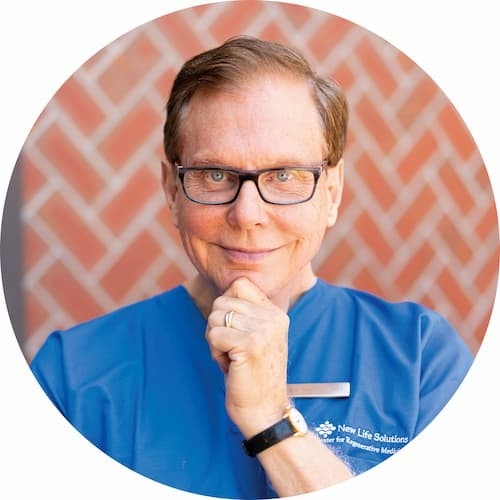 Alex Martin, MD, Medical Director
Alex Martin, MD, is the Medical Director of NEW LIFE SOLUTIONS. He completed his post-graduate and doctoral studies at the University of Southern California School of Medicine, then further specialized in Internal Medicine at the University of California Medical-Surgical Program at Cedars-Sinai Medical Center in Los Angeles. Dr. Martin was awarded a fellowship and spent a year overseas working with some of the World's leading research scientists on proteins, DHEA, HGH, anti-aging hormones, and antioxidants now widely used in today's fight against the aging process. Dr. Martin co-founded the Friendly Hills Medical Group in Los Angeles County at the behest of some of his professors from Medical School, growing the group to over 150 offices in LA and Orange County.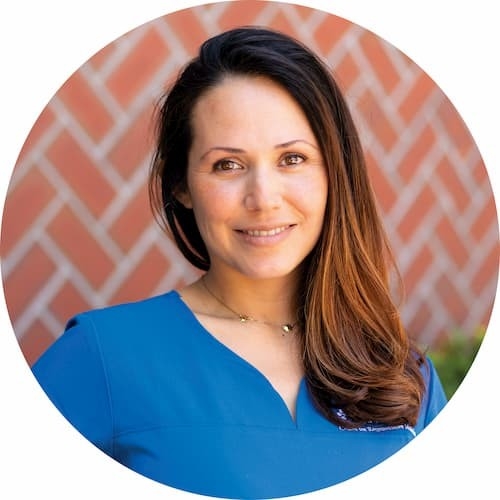 Genevieve Burciaga, RN, Aesthetic Nurse Specialist
Genevieve Burciaga is our Registered nurse.She has been in the industry for over 6 years. Her background is Holistic Lifestyle and Nutrition. She has graduated from West Coast University. With a Bachelors in Nursing with an emphasis on Public Health and started her career straight into the aesthetic world. Her attention to detail has made her a phenomenal nurse, her patient advocacy has made her a wonderful asset to our Medical Spa. Genevieve enjoys good food and spending time with her family.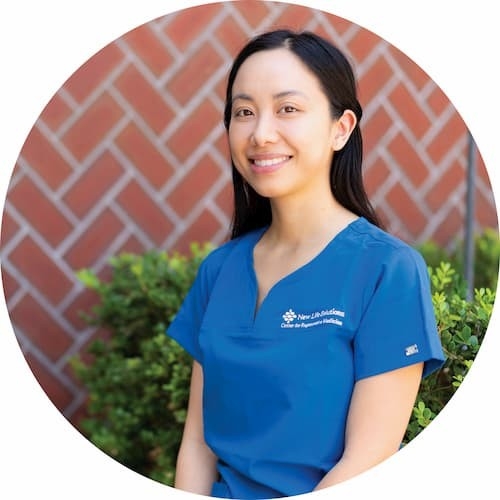 Jennifer Le, MS, PA-C, Aesthetic Nurse Specialist
Jennifer is an aesthetic/plastic surgery physician assistant at New Life Solutions. Jennifer graduated with honors in Public Health at University of California, Berkeley and later earned a Master of Science degree in physician assistant studies at Pace University - Lenox Hill Hospital. She began her interest at a private cosmetic and laser dermatology office and plastic surgery at the reconstruction department at Memorial Sloan Kettering in New York City. Jennifer enjoys learning about the latest skin care technology and also helping patients achieve inner and outer beauty. Upon graduating in 2015, she started her career in aesthetic medicine and has been dedicated to the field for over four years.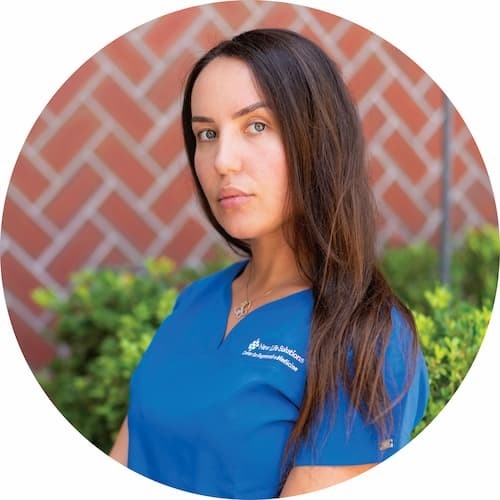 Anna G., RN BSN, Aesthetic Nurse Specialist
Anna specializes in non-surgical facial aesthetic injections and various laser treatments. She considers her work an art form that allows her to help restore youth, enhance patient appearance, improve self-confidence and better their overall aesthetic. Anna is invested full time in aesthetics by sharing her knowledge and applying her skills when working with each patient individually. As an expert nurse of her craft, Anna provides aesthetic consultations and works closely with her patients to achieve their desired look. She is known for her light, skillful hand, thorough explanations, informative teaching and personable approach.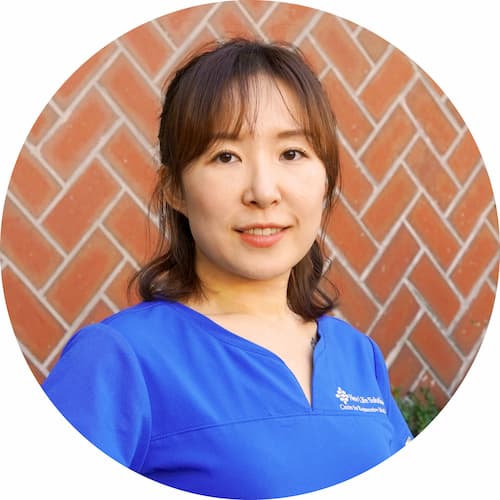 Patrice, Chief Operating Officer
Patrice is our Chief Operating Officer. A graduate of the steemed University of Leeds in the United Kingdom, with a double Bachelor's in Accounting & Finance. She received her Master's degree in business administration from California State Politechnic Univertsity. She oversees our day-to-day operations. Her main goal is to always secure the functionality of our company to drive extensive and sustainable growth to give our patients the best quality services. Ms. Wang's career has seem her helm several real estate & investment companies to dizzying heights of profitability without losing the humen element. In 2016, Patrice started operating New Life Solutions, and has been the driving force behind estasblishing the facility as a force to be reckoned with in Pasadena. She's navigated the company expertly and in less than a year, New Life Solutions became the top choice of where to go to when the social elite need the most technologically advance treatments, most knowledgeable practitioners, pampering, attention to detail, comfort, and privacy.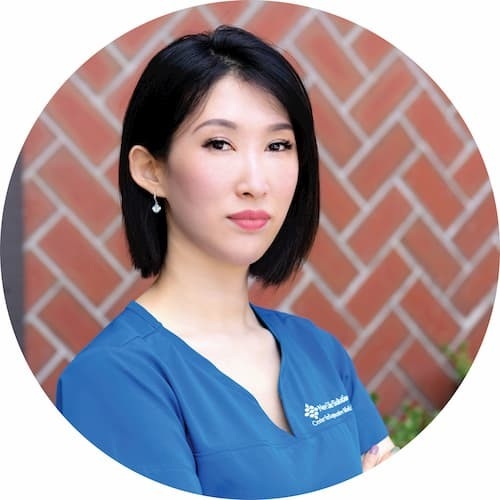 Tracy, Chief Marketing Officer
Tracy is our Chief Marketing Officer/Sales Manager,she is responsible for overseeing marketing and sales activities for our company. With over ten years of experience in the beauty industry,regenerative medicine and marketing services leadership. She specializes in executing strategic growth initiatives,establishing high performance business, and making sure our patients get the most over the top treatments. Tracy's passion for beauty and regenerative medicine started very early in life back in her hometown, after she graduated university of Southern China. She moved to Singapore to persue her dream in the medical and esthetics industry. She is known for her knowledge, professionalism and natural style to see, feel and guide our patients beyond their everyday expectations. Tracy loves to travel, and spending time with her family in China.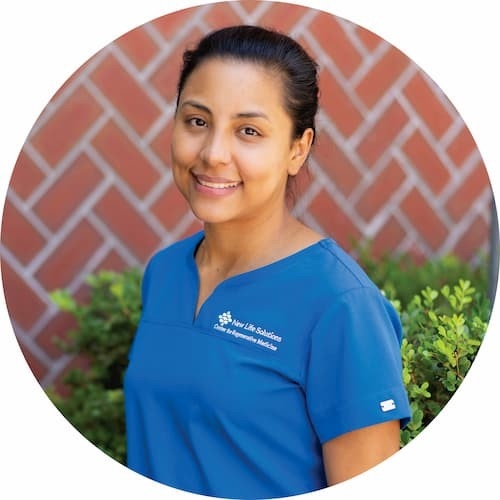 Rebeca, Office Manager
Rebeca is our office manager and takes great pride in overseeing New Life Solutions daily operations and leading our staff. She was welcomed as an addition to our office in May 2017 bringing with her over eight years of experience in custumer service,sales,and personnel instruction. Since joining the practice she has worked effortlessly to keep our promise to patients to give them only the highest quality service and high end treatments. Rebeca's passion for the beauty industry goes above and beyond. Having being born and raised a part of her life in Honduras she is also fluent in Spanish. With her keen organizational skills and great attention to patients she keeps the office running smoothly and efficiently. She enjoys vacationing and spending time with her family.
CONTACT US TODAY
BOOK AN APPOINTMENT FOR A CONSULTATION
BOOK APPOINTMENT