Breast Augmentation
Breast Augmentation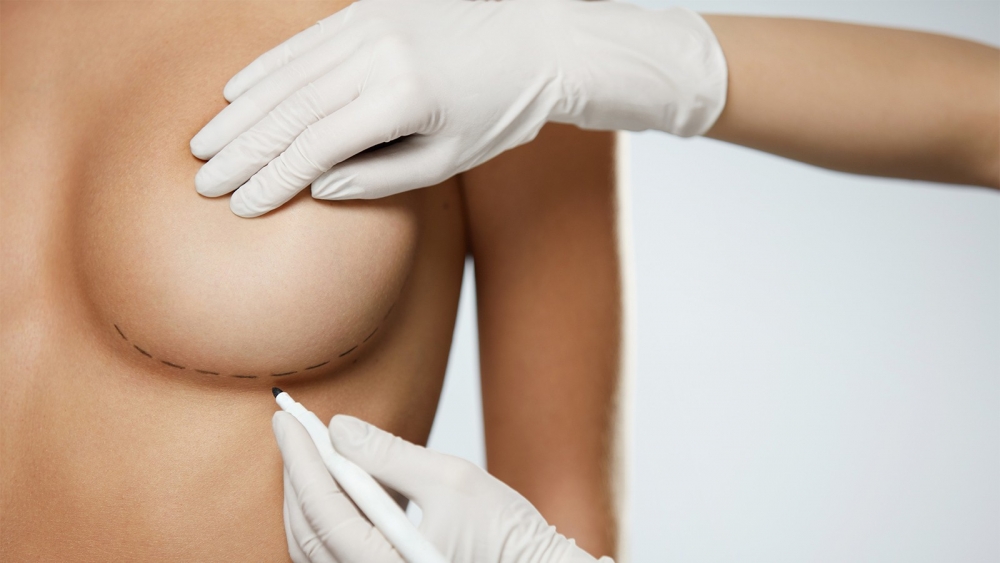 If you are looking to enhance the size of your breasts for a more womanly shape, you may consider a breast augmentation procedure. This procedure is widely recognized to be safe and effective, with results that look natural and one that women (and men!) will adore.
Breast Augmentation, also known as mammoplasty, is a surgical procedure where we place implants to enhance the shape and size of your breasts. Breast implants are silicone shells filled with either saline (salt water) or a cohesive silicone gel. It is a great procedure for patients who desire to be bustier. However, it will not correct breasts that sag too much. Any natural deformities, such as outwardly pointing nipples, will also be exaggerated and additional secondary procedures may be necessary to achieve beautiful, symmetric breasts.
During the consultation process, we will discuss the various options available to you:
Type of Implant(SALINE VS SILICONE)
Scar Placement / Route Of Implant Placement
Where The Implant Will Be Placed
TYPES OF BREAST IMPLANTS
Implants are silicone shells that can be filled with either saline or viscous silicone. Saline and silicone implants weigh approximately the same.
Saline implants are approximately half the cost of their silicone counterparts and allow a range of fill sizes for each implant. This is especially helpful when a patient has asymmetrical breasts and we're trying to make it more symmetrical. When silicone implants leak/rupture, the fluid gets absorbed by your body without any side effects.
However, saline implants run the risk of feeling like a bag a water and having visible rippling, especially in the cleavage area.
Silicone implants usually don't have problems with rippling and feel much more natural. However, they have their own drawbacks. Silicone implants come in pre-filled sizes so it is harder to correct breast asymmetry. When they leak, it could get into the surrounding tissue and lymph nodes and is nearly impossible to remove completely.
NOTES ABOUT BREAST TYPES:
Implants are made of a silicone shell, and can be filled with either silicone or a saline solution depending on the patient's needs and preferences.
Saline-filled implants can be less expensive, while silicone-filled implants generally feel more natural to the touch. Saline implants can sometimes have a "rippling" effect like a bag of water, especially visible in the cleavage area.
Fat transfer procedures, also known as natural breast augmentation, involve injecting fat from one area of the body into the breast, using a strategic plan that will sculpt the breast to the preferred shape. However, the amount of volume increase is limited by the amount of autologous fat you have available to donate from other parts of your body. Natural augmentation has the added benefit of removing fat, via liposuction, from other areas of the body to be used for the injection.
SCAR PLACEMENT / ROUTE OF IMPLANT PLACEMENT
Implants placed through axillary incisions leave the breast skin unscarred. Using this type of incision, placement of implants is technically more difficult and preclude the placement of excessively large silicone implants. Although traditionally a popular choice, it has fallen out of favor more recently due to concerns that these scars could potentially be visible when the arm is raised when wearing bikini's or tank tops.
Nipple incisions allow the scar to be hidden in the junction of the darker areola skin and lighter breast skin. Implant placement through this route requires the breast tissue be divided. It also risks distorting the round shape of the nipple-areolar complex from assymetrical nipple scarring.
Incisions in the inframammary fold are more conspicuous but can often be hidden behind a rejuvenated breast. Surgery is technically easier, larger implants can be placed, and the scar often heals quite well.
BREAST IMPLANTS CAN ALSO BE PLACED VIA 4 DIFFERENT ROUTES:
Inframammary Fold (the fold underneath your breasts)
Peri-areolar (through your areola)
Transaxillary (through your arm pits)
Trans-Umbilical(through your belly button)
BREAST IMPLANT LOCATION
SUBGLANDULAR / SUBFASCIAL LOCATION
When implants are placed underneath your native breast tissue, results are more natural and your recovery is much faster. Patients must have sufficient native breast tissue to be good candidates for this type of placement. Anatomically, this procedure makes more intuitive sense. However, you are at greater risk for having a capsular contracture. Routine daily massaging exercise may help decrease this risk.
SUBMUSCULAR LOCATION
Implants can also be placed underneath your pectoralis major muscle. This technique allows the breast implant to be hidden under both your native breast tissue and your muscle. It is ideally suited for patients who have very small breasts and lack sufficient tissue to mask the presence of an implant and have a more natural looking result.
ADVANTAGES
Advantages of this procedure include the recruitment of your chest muscle to enhance your breast volume, decreased likelihood of capsular contracture compared to subglandular breast agumentations, and less likelihood of visualizing the presence of a breast implant.
DISADVANTAGES
Disadvantages of this procedure include longer post-operative recovery times from having to divide your chest muscle, less anatomically intuitive implant placement, potential arm weakness with certain movements, and risk having post-operative motion artifacts.
WHAT MAKES AN AUGMENTED OR SURGICALLY ENHANCED BREASTS LOOK NATURAL?
Only you and your doctor can decide whether natural breast augmentation is right for you. Take into account your general well-being and physical condition. Also consider your reasons for wanting the process. Will this help you feel more confident and improve your overall outlook? Many women believe the process is life-changing, and have absolutely no regrets.
If you do decide to go through the procedure, be very careful to follow the steps prescribed by your doctor. Make sure you have someone at home who can help on the first day or so after the process, as you might have some pain and tenderness and want some extra TLC. Finally, be sure to follow the after-care instructions explicitly, to ensure the fastest possible recovery and best overall results.
CONTACT US TODAY
BOOK AN APPOINTMENT FOR A CONSULTATION
BOOK APPOINTMENT